Discover a Song Review of "Fine Without You" on Coyote Music
---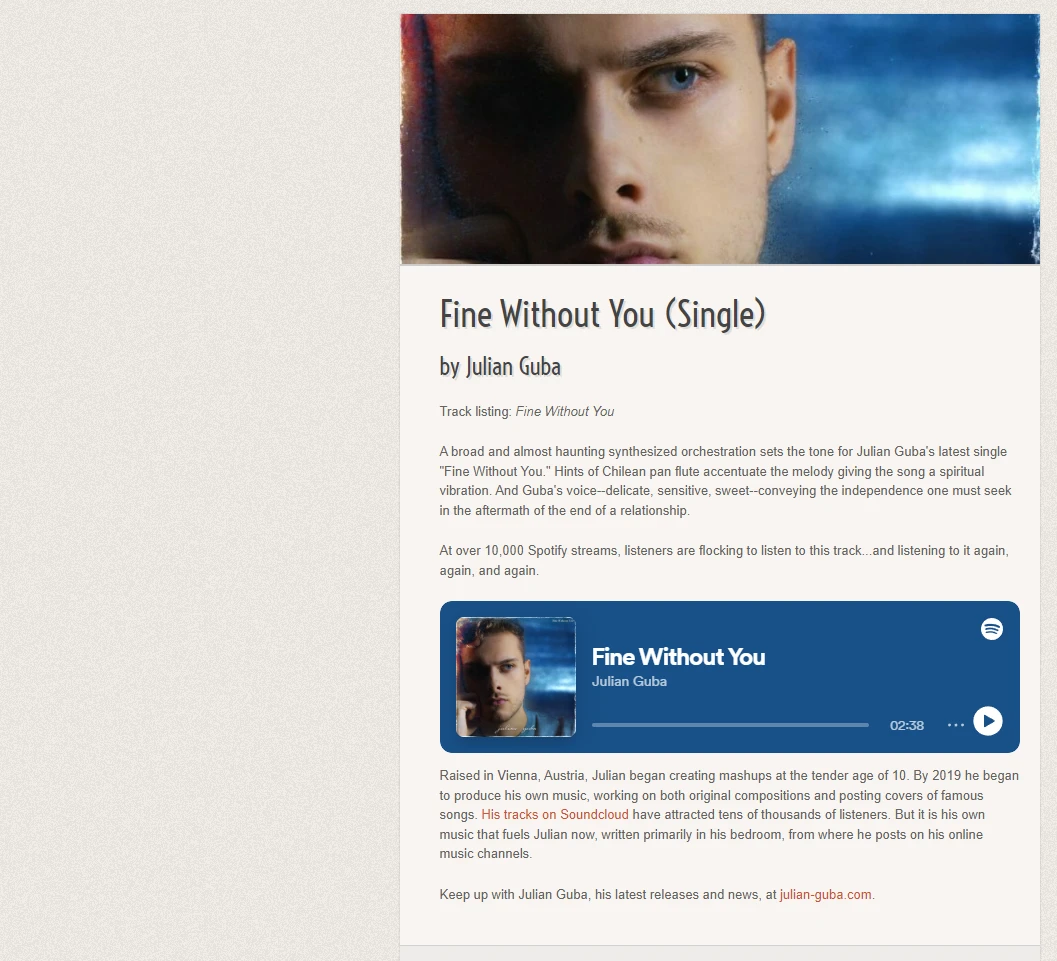 Discover a Song Review of "Fine Without You" on Coyote Music
by Julian Guba
Introduction
Discover a Song Review of "Fine Without You" on Coyote Music:
As an artist, there are few things as thrilling as stumbling upon a review of your music.
Recently, I was overjoyed to find a review of my single "Fine Without You" on Coyote Music.
It's incredibly gratifying to see my work being recognized and appreciated by others. In this article,
I want to share my excitement about this review and express my gratitude to Coyote Music for their support.
Discovering the Review
As an independent musician, it can be challenging to gain exposure and recognition in a crowded music industry.
So, when I stumbled upon the review of "Fine Without You" on Coyote Music,
I was ecstatic. It was an unexpected and pleasant surprise to see my song being reviewed by a reputable music publication.
I eagerly read through the review, taking in every word, and feeling a sense of validation for the hard work and dedication I put into creating my music.
Coyote Music's Review
The review of "Fine Without You" on Coyote Music was incredibly positive and uplifting.
It described the orchestration of the song as haunting and the melody as captivating, mentioning the use of Chilean pan flute that added a unique and spiritual vibe to the composition.
The review also highlighted my vocals, describing them as delicate, sensitive, and sweet, and mentioning how they conveyed the theme of independence and self-empowerment after a relationship ends.
The reviewer noted the popularity of the song on Spotify, with over 10,000 streams, and the repeat listening from fans.
It was truly encouraging to see my music resonating with listeners and receiving recognition from a respected music publication like Coyote Music.
Gratitude and Motivation
As an artist, receiving positive feedback and recognition for my work is incredibly motivating.
It fuels my passion for creating music and inspires me to continue pursuing my musical journey.
I am immensely grateful to Coyote Music for taking the time to listen to and review "Fine Without You."
Their support and acknowledgment of my music mean a lot to me as an independent artist.
It encourages me to keep pushing forward, honing my craft, and sharing my music with the world.
Conclusion
Discovering a song review of "Fine Without You" on Coyote Music has been an exhilarating experience for me as an artist.
It's a reminder that my hard work and dedication to my music are paying off, and my music is resonating with listeners.
I am grateful for the recognition and support from Coyote Music, and it motivates me to continue creating music that connects with people.
As I continue on my musical journey, I am filled with excitement and anticipation for what the future holds, and I am deeply grateful to have my music reviewed by Coyote Music.
To listen to "Fine Without You" and stay updated with my latest releases and news, visit my website at julian-guba.com.
---