One Million Streams on Spotify
---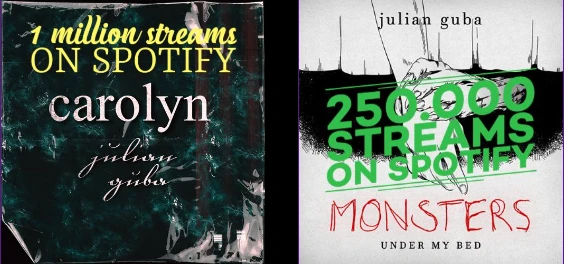 My Self-Written Single "Carolyn" Surpasses One Million Streams on Spotify!
I can't quite believe it.
On the 24th of April, my self-written, self-produced, and self-mastered single "Carolyn" has surpassed one million streams on Spotify!
It is my first song to reach this big milestone, and I am deeply grateful to all of my listeners who have helped me.
As an independent artist who is not signed to a record label, I have had to do everything myself to create and promote my music.
This song, which is about drug abuse and its consequences for the abuser's loved ones, is something that I poured my heart and soul into.
This song had a lot of melody, production sounds, and lyrics that I had been thinking about for years.
Now that I have been able to realize it, knowing that so many of you resonate with it is the best feeling ever.
Gratitude for "Monsters Under My Bed"
In addition to "Carolyn," I am also incredibly grateful that my other single, "Monsters Under My Bed," has reached 250 thousand streams on Spotify.
Again, the support from my listeners has been overwhelming, and I am so grateful for every single stream and every single person who has taken the time to listen to my music.
Playlist Saves
Furthermore, a big thanks to everybody who saved my songs to their playlists.
Opening my Spotify page every night and realizing how many people have listened to my songs that day – it's an outstanding feeling, seriously!
Overtime, your support became so big, that together we were able to reach these stream milestones!
Thank you!
Exclusive Information on New Single
Looking forward, I want to give the readers of my blog exclusive information on my new singles.
And today I will announce that my new song "Loser Like You" will be released in just a few weeks.
As an artist, I am constantly striving to improve and grow, and I know that this new release will be no exception.
I guarantee you will love it!
Stay tuned for further information in the upcoming weeks.
Once again, thank you from the bottom of my heart to all of my listeners who have helped me reach this incredible milestone.
Your support means everything to me, and I cannot wait to see what the future holds.
You can listen to Carolyn and Monster Under My Bed on all streaming platforms.
---